Advertisement
Did you see CORSETS at a faire? Are you looking for Laced Ladies? Call Sue at 616-485-4843 or write lacedladies@gmail.com
Leather Lore
Contents
"Loads of goods for
Men and Women!"
- Armor (men & women),
Belts, Pouches, Mugs,
Games, Jerkins, Bottells,
Cinchers; lots More!
- Belts, Baldrics, Bags,
Gun stuff, much More!
More index below...
How to Order
How to Order
...Continued
Care of Leather
Cleaning Leather
More index below...
Need our contact info? Join our mailing list?
...Continued
More index below...
How to Order
How to Order
...Continued
More index below...
...Continued
Leather Care
More index below...
How to Order
How to Order
...Continued
More index below...
...Continued
How to Order
How to Order
Leather Bottells!
(Yes, that's the spelling!)
Also referred to as Canteens and Flasks
Click here for care instructions
Another Customer Daniel Syrcle writes: "What can I say except WOW! This is by far one of the coolest items I have in my reenactor equipment and was a fantastic value. I will shop with you again I am sure! I may be e-mailing you after my first event with the bottle to get info about ordering more. I love it! Can't wait to use it!"
These are based on actual bottells from the mid 1500's and were in use in various forms for centuries. Made from leather, and stopped with a turned wooden stopper, these were commonly used to carry dry and wet goods, such as gunpowder, round shot, and beverages. Bottells intended for beverages were boiled in wax or lined with Pine Pitch, as are the ones I make. No unrealistic plastic or resin linings here! Bottells that carried dry goods were usually unlined. Inspired by relics found aboard the Mary Rose, The bottells that I make are authentic in both process and materials! Completely hand made and assembled (even hand stitched, unlike everyone elses), these bottells will add a most unique touch to your outfit, whether you're into Renaissance, Civil War, Revolutionary, or other period reenacting!
Pitch Lined Bottells
Wax Boiled Bottells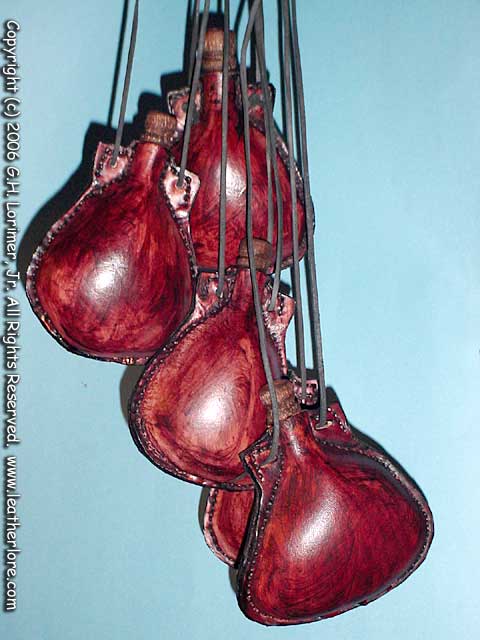 Classic style - available in different colors (antique mahogany and plain thong straps shown), lined with pitch and stopped with a hand turned wooden stopper.
New style - just as authentic, yet more durable! Boiled and sealed in pure beeswax! Colors of Brown & black only, with a hand turned wooden stopper.
Sizes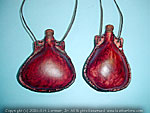 Bottells come in 3 sizes. Being handmade, they will never exactly match each other, but the capacities are approximately:
Small -- 10 oz. (discontinued)

Medium -- 16 oz.

Large -- 32 oz.
Colors

Bottells are available in different colors, however there are some limitations. Pitch lined bottells can be any color, for the pitch is only applied to the inside. Pictured are Antique Mahogany, Purple (with matching corset), Natural, and Red. click here for other available colors.

Wax boiled bottells are completely immersed in the wax, which turns the natural color into a medium to dark brown. Any color stain that I use will only turn black in this process, therefore wax boiled bottells are only available in brown and black.
Hand Turned Stopper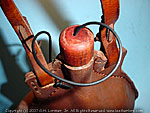 I even make these myself. With retaining cord to help prevent losing the stopper!
Thonging vs. Shoulder Straps
Bottells come standard with a thong strap. You can get the optional leather strap by adding $14 more to the base price of whatever style of bottell you select! Includes adjustable lace joint.
Prices are as follows:
Pitch / Wax
Unlined
Small ~10 oz.
Discontinued
Medium ~16 oz.
$64
$59
Large ~32 oz.
$69
$64
Strap
add $14
add $14